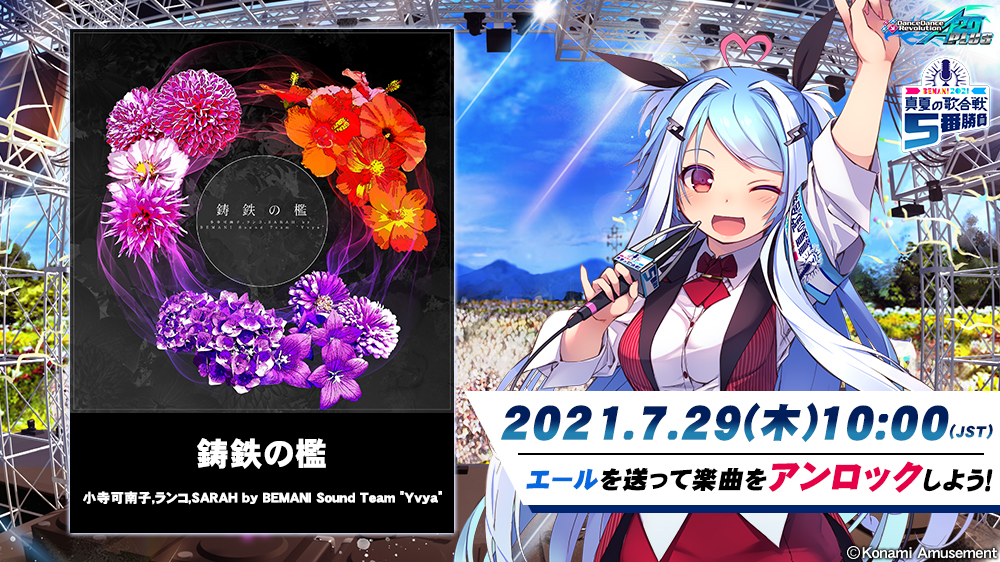 BEMANI 2021 Midsummer Song Battle 5th Match is a cross-BEMANI game event where players can unlock songs for their favorite game. This event will run from July 29, 2021 through September 9, 2021. For DDR A20 PLUS the following song can be unlocked through the event:
「鋳鉄の檻 / 小寺可南子,ランコ,SARAH by BEMANI Sound Team "Yvya"」
「MOVE! (We Keep It Movin') / Jonny Dynamite!,Lisa – paint with stars -,Rio Hiiragi by BEMANI Sound Team "U1-ASAMi"」
「LIKE A VAMPIRE / koyomi,星野奏子 by BEMANI Sound Team "TAKA"」
「スーパー戦湯ババンバーン / すわひでお,秋成,かぼちゃ,藍月なくる,NU-KO by BEMANI Sound Team "八戸亀生羅"」
「Globe Glitter / Sana,ATSUMI UEDA by BEMANI Sound Team "PON"」
「ユメブキ / 紫崎 雪,Risa Yuzuki,709sec. by BEMANI Sound Team "PHQUASE & SYUNN"」
「灼熱 Pt.2 Long Train Running / DJ Mass MAD Izm*」
To participate in the event, players must collect "Yells" by playing the game that they want to unlock the song for. Send the "Yells" to the respective game through this page here, then MAX out the amount of "Yells" for the game to unlock the song. Players may gain 500 "Yells" per Normal play or 600 per Premium play.
For more information about the event, visit the event page here.