The new DDR version "DanceDanceRevolution A3" has been launched to all 20th anniversary gold edition cabinets.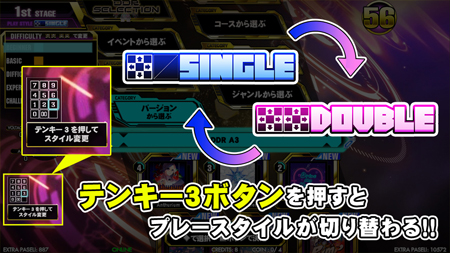 The new major feature in DDR A3 is the ability to switch between Single and Double mode during a set.
Timing of the following songs have been adjusted:
「BLAKE / A.T.park」
「Evans / DJ YOSHITAKA」
「RED ZONE / Tatsh&NAOKI」
「TYPHØN / BlackY」
「サイカ / フレデリック」
「天上の星~黎明記~ / TЁЯRA」
Check out the new songs in DDR A3! All songs with their EXPERT charts can be seen in the playlist below.
「Anthurium / BlackY feat. Risa Yuzuki」
「Dance Phenomena / BEMANI Sound Team "Captain KING"」
「♡Drive My Heart♡ / CHEAP CREAM」
「Fleur / BEMANI Sound Team "Akhuta Works"」
「Like A Star / nora2r feat. 和鳴るせ」
「Pump Pump Pump / kors k」
「SAYONARA☆ディスコライト / nana(Sevencolors)」
「Surface / Stessie」
「Wolf's Rain / fu_mou」

「Deep tenDon Reflex / BEMANI Sound Team "Coyaan"」 is the new DDR A3 EXTRA EXCLUSIVE song.