RINON'S ADVENTURE 3: "THE AWAKENING" marks Rinon's final adventure in DDR A and will be live on July 13, 2017 @ 10am JST (Evening of 7/12 for North America). Expected in this coming update are the Challenge charts for the rest of the EXTRA EXCLUSIVE tracks: Ishtar, out of focus, Neutrino, and maybe even Cosy Catastrophe. The previous RINON'S ADVENTURE events pushed out Challenge charts for three songs per event, and since this is the final event, the rest should follow. Who knows what other surprises might be in store for us?
디디알 업데이트 내용
-리논 어드벤쳐 3 대응
-판정 타이밍 조정 (동시밟기 입력 빡셌던것, 기체별 입력판정 타이밍 조정) pic.twitter.com/HaWGi7iQ6n

— ECHOES (@echospherics) July 11, 2017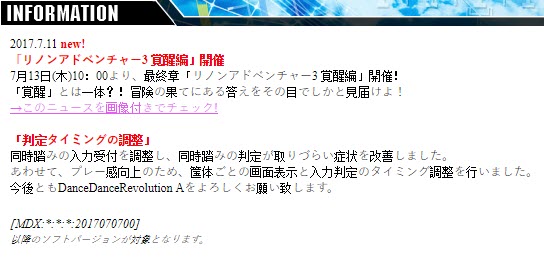 In addition to RINON'S ADVENTURE, the latest update notes suggest that adjustments to the timing have been made as of version [MDX:*.*.*:2017070700]. A brief translation provided by @echospherics tell us that the timing regarding jumps have been improved, as well as the general overall timing for each type of cabinet to improve the feel of playing.
A series of updates full of higher end charts for the competition-level crowd historically suggests that the game is nearing the end of its cycle. Events such as "Replicant D-Action" and "Replicant D-Ignition" from DDR X2 and DDR 2014 respectively come to mind. DDR A has also seen several revisions to its timing over the course of its life cycle. During the initial launch in Japan/Asia, the game in the newer white cabinets experienced very poor timing, which was promptly "fixed" in the next update. Though as a result, the timing has become the most lenient it has ever been in any arcade DDR series. And during the previous RINON'S ADVENTURE event, the visual timing had been adjusted and fixed again. And with this new timing update, there's no telling yet how this will affect all the players.
What will all of this mean for the future of DDR? Without news or announcements of a new version after over a year since launch, no mention of any news regarding DDR for the next BEMANI生放送(仮) livestream, plus the recent news about KONAMI testing a brand new dance game called "STEPSTAR", it is difficult to speculate what will happen to DDR when DDR A eventually receives its final update.
What do you think KONAMI has planned DDR's future? Feel free to discuss this in the comments section below.