BEFORE YOU CONTINUE, make sure your KONAMI e-amusement card is attached to the correct account if you want to be ranked for your region! Players outside of Japan commonly use two accounts, one set to their own region, and one set to Japan in order to use PASELI options such as basic course subscription and special modifiers. For example, if you are from the North America region and your card is registered to an account set to the Japan region, you must detach your card from your Japan account and attach it to a North American (US/Canada) account.
Refer to these guides to register a new e-amusement account: (bemanistyle) (RemyWiki)
Refer to this guide for how to detach and attach your e-amusement card between accounts.
Essential links
Schedule
Entry Period: Tuesday, November 26, 2019 to Monday, January 6, 2020 @ 18:00 JST
Qualifying Period: Wednesday, November 27, 2019 @ 10:00 JST to Tuesday, January 7, 2020 @ 18:00 JST
East Japan Semi-Finals: Saturday, January 18, 2020 @ pending Tokyo venue
West Japan Semi-Finals: Saturday, January 25, 2020 @ pending Osaka venue
Finals: Saturday, February 8, 2020 @ JAEPO 2020 KONAMI booth
Finals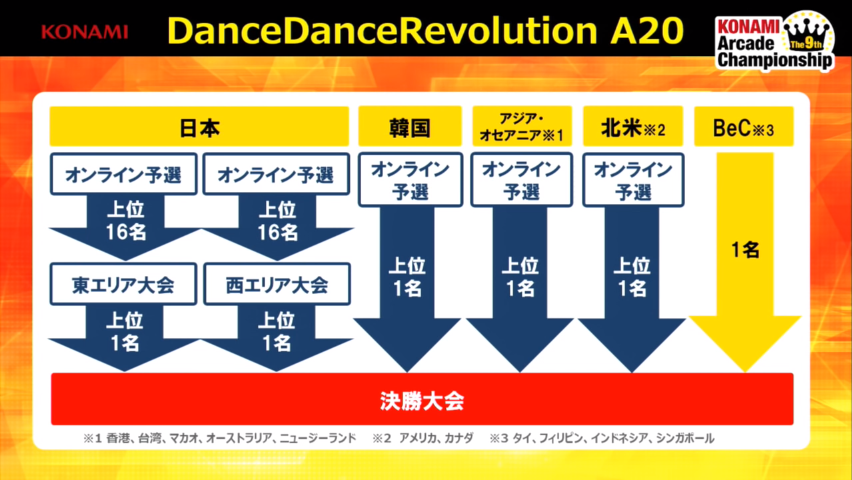 The first place qualifier for each of the following countries/regions will be eligible to participate in The 9th KAC finals at JAEPO 2020:
East Japan after a 16-player semifinals
West Japan after a 16-player semifinals
Korea
Asia & Oceania
North America
Winner of the BEMANI Esports Championship 2019 in Southeast Asia
Registration
Go to the DDR A20 page for The 9th KAC. Click on the button on the right to register.

The next page will ask you to confirm your country/region that you have registered on your KONAMI ID.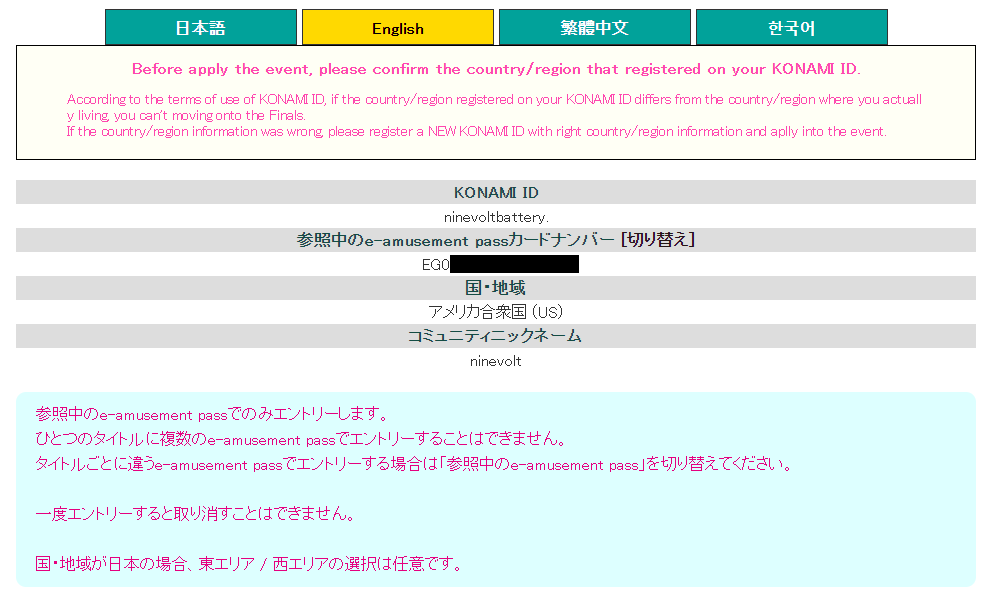 Verify that your information is correct, then continue below to select the games you want to register for. You may only select the games that your currently registered country/region is eligible to participate in, which in this case, DDR A20 is the only option for the US.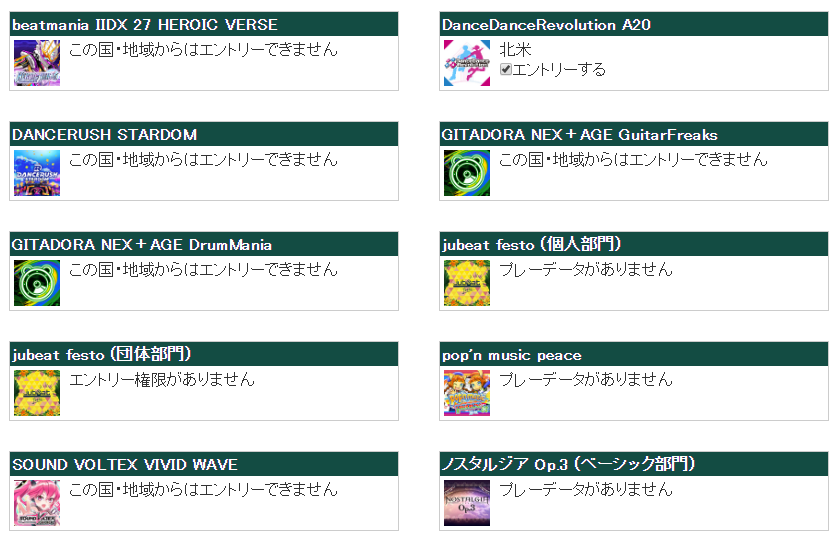 Continue down the page to below the agreement notice and click the button to continue registration.

Once again, continue down the page and select the dark green button to confirm your entry.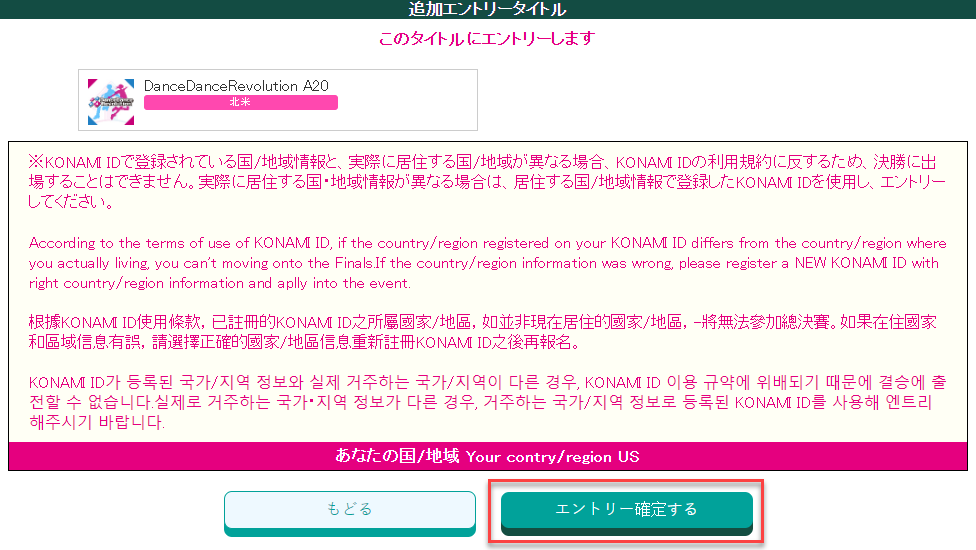 Congratulations! You have completed your registration for The 9th KAC. Good luck!
Qualifiers
Qualifier songs will appear in a special event folder in the game's song selection menu. All songs may be played on any difficulty. Scores are tracked by your best EX Score for each song. It is best to select the difficulty you are capable of performing in order to maximize your EX score.
First period of qualifiers begin on 11/27/2019.
ランカーキラーガール (Ranker Killer Girl)
Second round of qualifiers begin on 12/18/2019.
The History of the Future
---
| | Song | MAX EX |
| --- | --- | --- |
| | ランカーキラーガール | 1902 |
| | 未完成ノ蒸氣驅動乙女 | 2262 |
| | Fascination MAXX | 2058 |
| | Blew My Mind | 2139 |
| | TRIP MACHINE EVOLUTION | 2100 |
| | The History of the Future | 1962 |
| | ORCA | 2040 |
| | ACE FOR ACES | 2406 |
| | 888 | 2334 |
| | Pluto Relinquish | 1722 |
ROUND 1
ランカーキラーガール
未完成ノ蒸氣驅動乙女 (DDR Edition)
Fascination MAXX
Blew My Mind
TRIP MACHINE EVOLUTION
ROUND 2
The History of the Future
ORCA
ACE FOR ACES
888
Pluto Relinquish