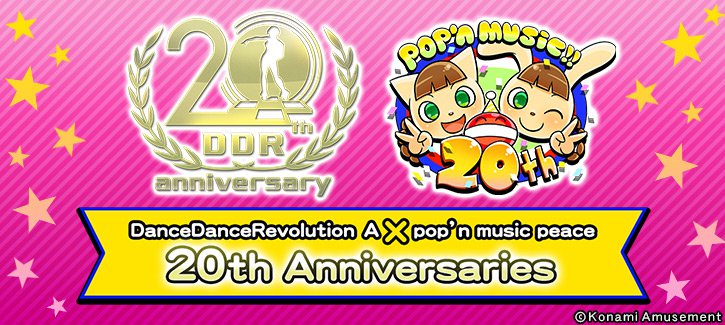 【DanceDanceRevolution20周年】 #popn20周年 をむかえたpop'n music peaceとのパーティが始まる!新曲『ANNIVERSARY ∴∵∴ ←↓↑→』等、情報もりだくさん! #DDR #DDR20th #popn https://t.co/HaZSPRyLv9 pic.twitter.com/lqFSz3q6K7

— DDRチーム【公式】 (@DDR_573) November 15, 2018
KONAMI is celebrating both DDR and pop'n music's 20th anniversary with a crossover event. Both DDR and pop'n music get a brand new song named ANNIVERSARY ∴∵∴ ←↓↑→ by BEMANI Sound Team "U1 overground". DDR A gets シュレーディンガーの猫 by Cait Sith, and pop'n music peace gets Come to Life by ARM (IOSYS) feat. Nicole Curry. The event is live as of 11/15/2018, 10:00 AM JST. More info about the event can be found on the DDR 20th Anniversary site.
Anniversary DSP SDP pic.twitter.com/Tl5t5zv8ES

— ERROR, 誤解レンジャー@ The Void (@StevesUsername) November 15, 2018
https://www.youtube.com/watch?v=G04M83kQ84s