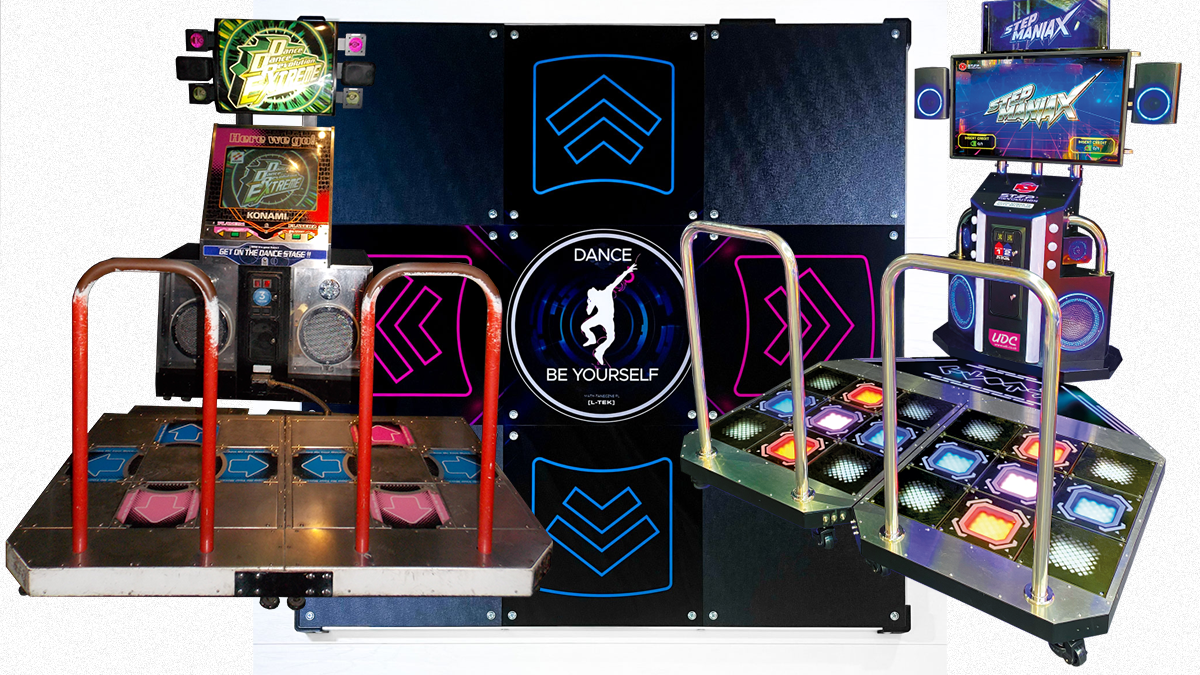 So you got the chance to play DanceDanceRevolution at the arcade and you want to know how you can play it at home. The old soft foam pad that you got bundled with the console version of DDR isn't cutting it anymore and you're longing for a more arcade-like experience. What are your options? Maybe you're just looking for a hard metal pad that feels like playing on the arcade machine, or you could be looking for the absolute real deal? With the release of DanceDanceRevolution GRAND PRIX, there is more reason than ever before to look for a quality pad for home play.
Here, we will cover the best available options out there and evaluate the advantages and disadvantages so that you can decide which option is right for you.
Arcade machine
When it comes to getting the true arcade experience, you just can't beat the real deal. Plus they simply look very cool. But there are many reasons why you only see these games at the arcade and not in everybody's home. So you're convinced that this is what you want and won't settle for anything less, and the first question that you want to ask is probably, "how do I get my own DDR machine?" Depending on who you ask, this question usually begets even more questions such as, "what kind of DDR machine? White cab? Black cab? Red cab? Original JP? Korean? ITG dedicab? BETSON??" "What's your budget?" "Are you trying to play actual DDR or StepMania?" The list goes on and your head is spinning.
Before you get your hopes up with buying your very own DDR machine, we have to let you know first and foremost that unless you are a business or a distributor, you will not be able to purchase a new machine directly from KONAMI. Your best bet is to find one second-hand, which lately has not been very easy. And depending on some factors like the generation of the cab, age, and condition, the price will vary greatly. Because you'll be buying second-hand, you'll essentially be entirely on your own when it comes to technical support. Your location may also be a factor in how much luck you'll have getting one. If you keep watch of some Facebook groups or the marketplace, eBay or the auction site of your country, or if you know a guy who might know a guy who can place an order for a machine that a closing Japanese arcade is getting rid of, then you may have success in getting one.
Maybe there's some local arcade nearby that is willing to sell their neglected DDR machine for a great price. Awesome! But be careful! Do you know what kind of cabinet it is? Has it ever had its monitor replaced? Are there any missing parts? Take into account some of the hidden costs like transporting the machine, tools and maintenance, and the time it takes to research and learn the ins and outs of the machine. If that doesn't phase you at all, or if you're more than willing to get your hands dirty to get your own DDR machine, then it sounds like you're ready to start your search. But where do you even begin to look?
Buy/Sell/Trade groups
The best place to search is through Facebook groups. There are nearly daily posts of people selling DDR and other rhythm game related parts, hardware, or merch. Being able to see who is selling and directly contact them to ask questions is very valuable. DDR machine listings are infrequent, but they do occasionally pop up. Some importers may even offer more modern versions of DDR machines such as the DDR 2014/A white cabinet or the black DDR X cabinet. Join the BEMANI Buy/Sell/Trade and The Official Buy/Sell/Trade group for rhythm game players to watch for listings. The Private Dance Games Arcade Owner (ITG, DDR, PIU, TechnoMotion) group is a great resource to join for when you eventually get your machine.
Auction sites
Keep an eye on auction sites like eBay. Businesses liquidating their assets or individuals who aren't aware of the buy/sell/trade groups will usually go to eBay to auction off their arcade machines. Unfortunately you will not likely see anything more modern than the original black DDR cabinet. Key words like "DDR", "Dance Dance Revolution", and "arcade" may land you a hit. Be patient and check often, because listings can come and go quickly. In case you do win an auction for a machine, be aware that you will most likely need to arrange a local pickup yourself.
Local arcades
Local establishments like independent arcades, bowling alleys, movie theaters, or any place that typically has a "game room" might have an older DDR machine that doesn't see play anymore. It may sound insane, but you might be able to get in touch with the arcade owner and pitch an offer to buy the machine off of them. You'd be surprised to hear that this has worked for some people. Give them a reason why they should sell the machine to you and make a reasonable offer, and that DDR cabinet can be yours.
Maintenance
Now that you have your very own DDR machine and get it all set up and put together, you decide to open up the panels to find that it's absolutely filled with dirt, parts have fallen off or missing altogether, some sensors don't work anymore and you have no idea what to do or where to get replacement parts. Thankfully there is a site called DDRPad.com that is not only a shop for arcade parts, but also provides all sorts of guides and manuals for your machine. YouTube is a great resource for learning about your DDR machine and how you can perform maintenance and your own modifications, as well as HackMyCab. Also please check out my DDR machine restoration series and my DDR Maintenance & Modding series to learn more.
Playing on your machine
Your machine is all cleaned up and in playing shape, but what versions of DDR will you be able to play? Depending on what type of cabinet you got, it will come with specific hardware that will only run whatever it came with. And unless you are Round 1 or Dave & Buster's, you won't be able to run DDR A20 PLUS or use the e-amusement network. So unless you are completely fine with playing whatever version you got, your options for playing more modern content are running StepMania or DDR GRAND PRIX which will require a new PC (and likely a new monitor) with a way to translate the input from your arcade dance pads to PC inputs. You can use a J-PAC or a pair of GHETT.io boards to do that.
StepManiaX
An alternative contender to the true arcade experience is StepManiaX. Not only does their hardware have a more modern, attractive design with cool and unique features like adjustable sensitivity with FSR (Force Sensing Resistor) technology and cool LED effects, Step Revolution provides excellent support for their products. If you can't get a real arcade DDR machine, the StepManiaX stage comes the closest to the look and feel. Some might even dare say that it's the superior alternative. Because the StepManiaX stages are newer industrial-grade equipment, they are quite expensive in comparison to a second-hand DDR arcade cabinet, so be prepared to hand over a decent sum of cash for these stages. That is, if you're able to secure a sale. StepManiaX sells their stages and dedicated cabinets in limited quantities and announces ahead of time when they will drop their sales date. You'll need to be quick, because they sell out fast. If you manage to get the dedicated cabinet or the touchscreen monitor, you'll be able to play the StepManiaX game which has its own original and licensed content, and receives continuous content updates. For parts and maintenance, Step Revolution has their own parts store on their website.
So how would you get a StepManiaX pad to play DDR or StepMania? Fortunately the stages use a USB connection so they can act like any game controller on the PC, so you will be able to map the buttons in StepMania and DDR GRAND PRIX without much, if any extra setup.
See StepManiaX in action here:
L-Tek Dance mat
The L-Tek dance mat by the Polish company Maty-Taneczne has become a very popular choice for consumer-friendly premium dance pads. If you're limited in space at home, don't want to deal with the hassle with hunting for a machine, transportation and maintenance, then the L-Tek is going to be the closest thing to an arcade pad that you can get. They come in several different editions, some even including a bar, although buyers have mentioned that the bar is not very sturdy. There is even a Pump It Up variation of the pad if that is your thing. And you can even customize your panels with your own design before buying! It's sturdy enough to withstand all levels of play, very portable, easy to store, and readily available to purchase. The pad uses a USB connection so it will be compatible with StepMania and DDR GRAND PRIX.
See the L-Tek dance mat in action here:
DIY
When you're all out of other options, you can always make an arcade pad on your own. With the power of YouTube and the DIY parts shop at DDRPad.com, you can build your own arcade style dance pad. You'll be able to have full control over what parts go into your dance pad so you can make it as sturdy as you want and use your preferred sensor technology. The price and quality will vary depending on how much time and effort you want to put into it.