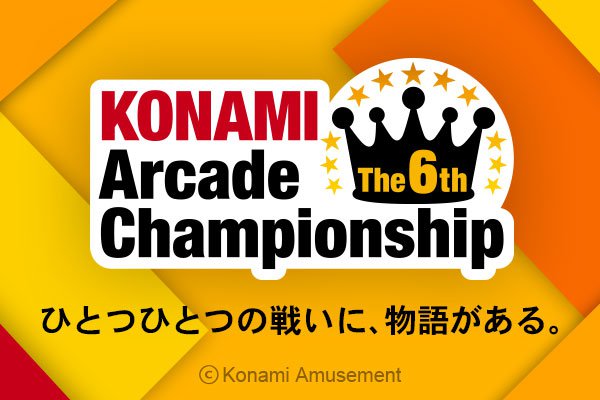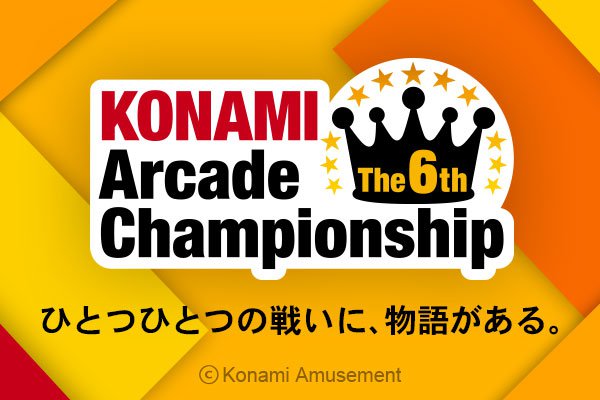 The 6th KONAMI Arcade Championship will be taking place at Japan Amusement Expo (JAEPO) 2017 on February 10-12, 2017 in Tokyo, Japan. Preliminary qualifying rounds will be held online for each participating game to determine who will have the chance to compete as a finalist in The 6th KAC at JAEPO 2017.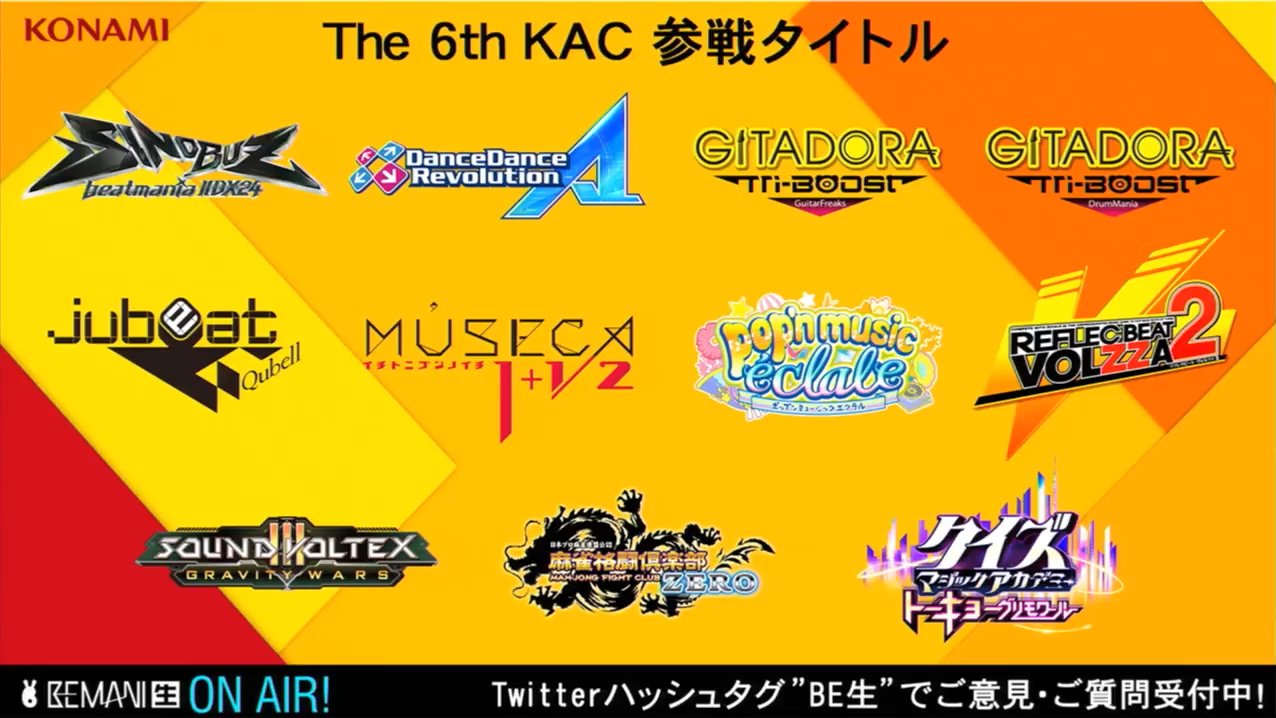 For the first time ever, North America will be able to participate in qualifying for The 6th KAC for DanceDanceRevolution A along with Japan and Asia (Outside Japan). Entry for the preliminary rounds will begin on November 24th, 2016 at 10:00 AM JST (November 23rd, 2016 at 8:00 PM EST, 5:00 PM PST). The top two players in each region with the highest total EX score of the 2 qualifying songs may enter the finals. The top ranking player outside of the finalists may enter the finals as a "wild card".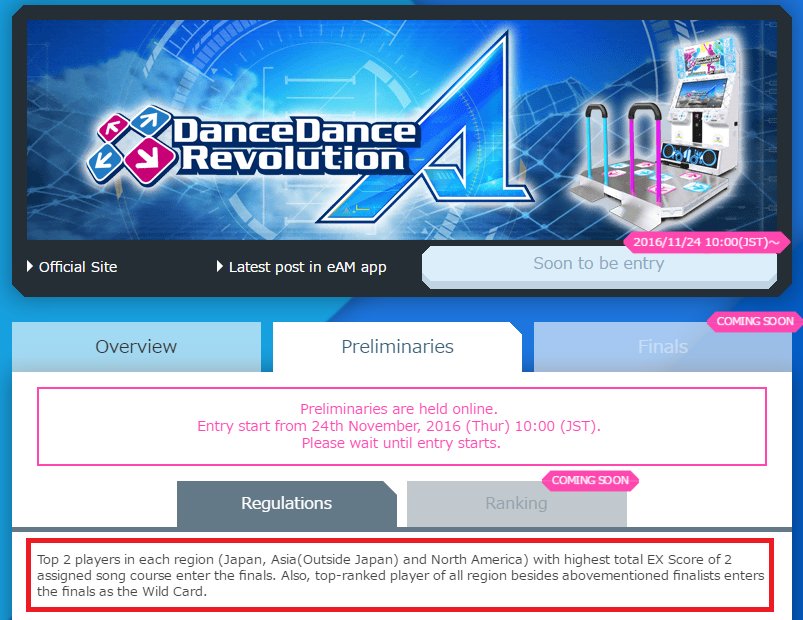 As of 11/29/2016, the KAC qualifying song list has been revealed. You also get a special 6th KAC Yuni costume for entering!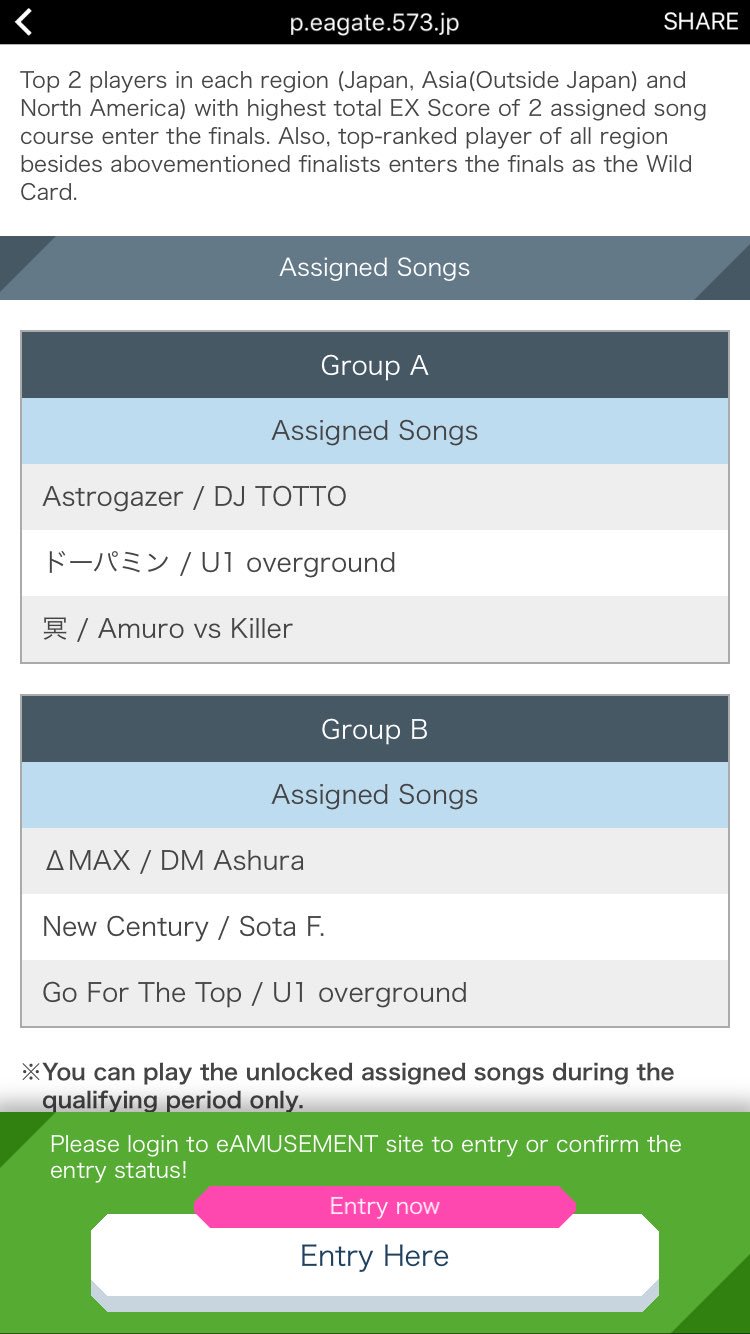 Final Preliminaries Results
Livestreams
As we are moving closer to the event, KONAMI has posted the livestreams on their YouTube channel. There will be two stages and two streams, a semi-finals stage and a finals stage. Each stream will have its schedule in the description.
Semi-finals
https://www.youtube.com/watch?v=5vlXeV49OUs
(Times are in JST)
<ステージスケジュール>
10:15~ 「MÚSECA 1+1/2」The 6th KAC 決勝ラウンド 準決勝
出演者:Dory/BlackY/Endorfin(sky_delta + 藍月なくる)/technoplanet/Yu_Asahina
10:55~ 「ノスタルジア」ステージ
11:35~ 「クイズマジックアカデミー トーキョーグリモワール」QMAジャパンツアー2016 グランドスラム大会 準決勝
出演者:石原プロデューサー/クイズ王・永田喜彰(とうちゅう)
13:15~ 「DanceDanceRevolution A」The 6th KAC 決勝ラウンド 1stステージ
出演者:TAG/U1-ASAMi/柊木りお
14:25~ 「jubeat」ステージ
15:10~ 「ノスタルジア」ステージ
Finals
https://www.youtube.com/watch?v=sLY_w8xbYPM
(Times are in JST)
<ステージスケジュール>
10:10~ 「麻雀格闘倶楽部 ZERO」「麻雀格闘倶楽部Sp」The 6th KAC 決勝ラウンド+エキシビション
出演者:日本プロ麻雀連盟 森山茂和会長/高宮まりプロ/石田亜沙己プロ/和久津晶プロ/中山奈々美プロ/井上絵美子プロ/大亀あすかプロ
11:50~ 「MÚSECA 1+1/2」The 6th KAC 決勝ラウンド 最終決勝
出演者:Dory/BlackY/Endorfin(sky_delta + 藍月なくる)/technoplanet/Yu_Asahina
12:30~ 「pop'n music うさぎと猫と少年の夢」The 6th KAC 決勝ラウンド 男子部門・女子部門
出演者:PON/m@sumi
13:40~ 「クイズマジックアカデミー トーキョーグリモワール」QMAジャパンツアー2016 グランドスラム大会 決勝
出演者:石原プロデューサー/クイズ王・永田喜彰(とうちゅう)
14:35~ 「DanceDanceRevolution A」The 6th KAC 決勝ラウンド 最終決勝
出演者:TAG/U1-ASAMi/柊木りお
15:35~ 「SOUND VOLTEX IV HEAVENLY HAVEN」The 6th KAC 決勝ラウンド
出演者:Cody/cosMo@暴走P/MAD CHILD/PHQUASE/水沢 柚乃
17:15~ BEMANI LIVE
(This page will be updated with more information as we get closer to the event)